Description
If you are having a vacation on Koh Samui or Koh Phangan and you are dreaming of the unforgettable romantic tour, we would like to invite you to the
Angthong National Marine Park
for a night!
All day tours to Angthong start from Koh Samui at 08.30 -09.00 AM and finish at 04.00-04.30 PM. If it is not a private tour, all your impressions will be a crowd of people and unbearable heat that will prevent you from reaching the highest viewpoint at Koh Wua Talap, where there is a really stunning view of the emerald marine islands.
At Koh Wua Talap, where you can spend one or several nights, there is a tourist office of the National Marine Park, a museum, restaurant, bungalow, camping for tourists and houses for the staff.
There are only 4 bungalows available for booking:
two bungalows with 1 bedroom for 2 persons and 1 bathroom (500 Baht/night)

one bungalow with 2 bedrooms for 6 person and2 bathrooms (800 Baht/night)

one bungalow with 3 bedrooms for 8 persons and 3 bathrooms (1400 Baht/night)
All bungalows feature electricity, fans (there is no air conditioning!), bed linen, towels. In bungalows with 2 and 3 bedrooms, there are twin beds. All bungalows look like typical clean houses in Thai style.
Bungalows are located behind the museum, without sea view, but within a walking distance to the sea due to a small size of the island.
Booking and payment of bungalow should be done in advance. We will pre-book it and inform of the payment date.
After payment, we confirm the booking and deliver documents to your hotel reception 1-2 days before the tour, or send documents to the national park reception with copies of documents to your hotel reception. The price of service – 500 Baht.
The price of bungalow for all booked nights and booking fee is not refunded.
If you prefer to spend the night in a camp, it is not required to book and pay for it beforehand. Only in Peak season, we book it in advance.
The camp is located closer to the sea, marginal tents even have a sea view.
How to get to Angthong?
We can offer you two options:
By slow boat (reaches Angthong within 1.5 hours)

By speedboat (reaches Angthong within an hour)
If you are planning to depart from Koh Phangan and arrive at Koh Phangan, or depart from Koh Samui and arrive at Koh Phangan (and vice versa) you can reach Angthong only on a speedboat. The surcharge is 300 Baht per person.
Big boat runs departs and arrives only to Koh Samui.
Itinerary
In the morning, at the appointed time in your voucher, the minibus will pick you up and get you to the pier. If you will travel by Big boat – to Nathon (Lomprayah pier), by speedboat – pier at Bang Rak.
The big boat reaches Angthong half an hour longer than speedboat but departs earlier (at 8.30 AM). That is why you will arrive at the marine park at the same time (at about 9.00 AM).
You will have breakfast with soft drinks. At first, you will visit Koh Mae with Emerald lake and after lunch, you will stop making a stop at Koh Wua Talap where you will spend a night.
What you should do
Firstly – pick up all your things from the boat. If you wish, you can take a snorkel and a mask (and leave a notice in the logbook). Remember that you can be fired if you lose the snorkeling equipment
Secondly – do not stay on the beach for a long time, do not try to reach viewpoint or Bua Bok cave in the heat, go directly to the reception which is located at the museum. Remember that guides will accompany you and will help you with check-in. At the reception show your booking documents (for a bungalow) or pay for camping.
Thirdly – make yourself comfortable, relax, order some refreshing drinks in the restaurant. In few hours all crowds of tourists and boats will disappear and the island will be at your disposal!
Now is your turn!  As soon as the heat goes down, hurry up to explore the island.
Your by-time in the marine park
First of all, we recommend getting to the viewpoint before the sunset. To see the really stunning panoramic scenery of the islands, you need to reach the highest viewpoint that is located in a small rock. That is why comfortable shoes are necessary! The way to the highest viewpoint is not difficult for adults and even kids of 4-5 years old.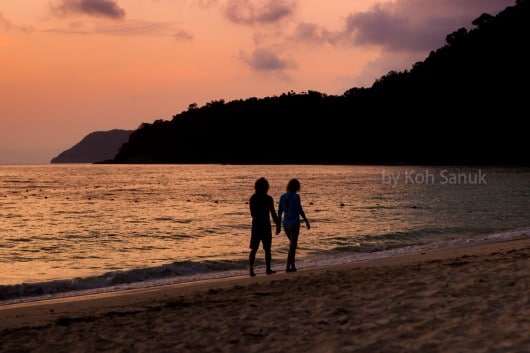 In the evening you can have dinner at the restaurant that is open till 10 PM. The menu can be viewed on our site. There are Thai and European dishes, fruits. The prices are higher than in other bars but not very high.
The island is very beautiful at night, especially at full moon. Enjoy the beauty of tropical nature, its sounds, smells, and colors. Be sure, you will remember this evening the whole life!
Try to go to sleep if you want to see the stunning sunrise.
In the morning after breakfast, we recommend you to go kayaking to avoid crowds of tourists (rent of one kayak is 200 Baht per hour).
Please note that if you book a tour and go kayaking with a group and a guide, you will go over a large distance. If you will go kayaking by yourself, you will explore only one bay or only the nearest beaches. It is dangerous to leave the bay without a guide – big waves can arise!
You can easily climb to Bua Kok cave (the ascent is much easier than to a viewpoint, the cave is ordinary but children like it).
When the tourists begin to arrive at the island, you can spend time on a deserted beach on the other side of the island (you should find a path near the houses and go along this path).
At 02.30-03.00 PM (your guide will tell you the exact time) you should wait at the place where you were landed. You will find it without difficulty if you know the name of the company and remember how the crew looks like.
Do not worry if you do not find your boat – they will not leave you and will surely find you!
At 04.00 or 04.30 PM you will reach Samui and have a transfer to your hotel.
Frequently asked questions
Question: If I want to sail by Big boat but I am staying at Koh Phangan or Koh Tao. Can I reach Nathon or Bangrak pier by myself?
Answer: Lomprayah speed catamaran departs at 07.20 from Koh Phangan and arrives at Nathon pier at 07.50.  That is the same pier where the Big boat is moored. You will have enough time to register for a voyage to Angthong. Ticket price is 300 Baht.
From Koh Tao, Lamprayah speed catamaran departs at 06.00 and arrives at Nathon pier at 07.50. Ticket price is 700 Baht.
From Koh Phangan Seatran Discovery speed catamaran departs at 08.00 and arrives at Bangrak pier at 08.30. You will need 5 minutes to walk to the pier with speed boats that run to Angthong.  If the catamaran is not too much lately, you will have enough time to register for a voyage to the Marine Park. Ticket price is 300 Baht.
From Koh Tao Seatran Discovery speed catamaran departs at 06.30 and arrives at Bang Rak at 08.30. Ticket price is 600 Baht.
Question: Is there a mobile telephony and internet on the island?
Answer: There are a mobile telephony and internet by the AIS and TrueMove company.
Question: Is there a power outage on the island?
Answer: Very seldom. Only in case of any breakdowns.
Question: If we are on Koh Wua Talap and all tours to Angthong are canceled due to weather conditions. When will we be taken to Angthong?
Answer: It happens very seldom, usually during the rainy season. In this case, your voyage will be prolonged for 1-2 days. If you want to go to Angthong during the rainy season, please plan to return from this voyage at least 3-4 days before returning home in order not to be late for the plane.
Welcome to the virgin Angthong!
time of transfers
Chaweng 07.15 – 07.30
Choeng Mon 07.15 – 07.30
Bophut (Mermaid) 07.30 – 07.45
Lamai (Sandal Wood – New Hut) 07.15 – 07.30
Lamai (Villa Centara) 07.30 – 07.45
Lipa Noi (Villa Coconut) 07.45 – 08.00
Video