Description
New VIP tour to Angthong by speedboat with a small group of 8-16 persons on board. Tour includes snorkeling near Koh Wao, the only coral reef on the territory of Angthong marine park. You will visit the famous Emerald Lake on Koh Mae. Lunch, kayaking, and relaxation on Koh Paluay will be the stop before departure to Koh Samui. During the cruise, you will enjoy almost all 42 islands of Angthong! The tour is planned to avoid crowds of tourists.
Itinerary
Transfer to the pier
Safety briefing and departure from Koh Samui
Snorkeling at Koh Wao
Cruise around 42 islands of Angthong
Panoramic viewpoint and Emerald Lake
Lunch at the restaurant on Koh Paluay
Kayaking and relaxation on the beach
Departure to Koh Samui
Transfer back to the hotel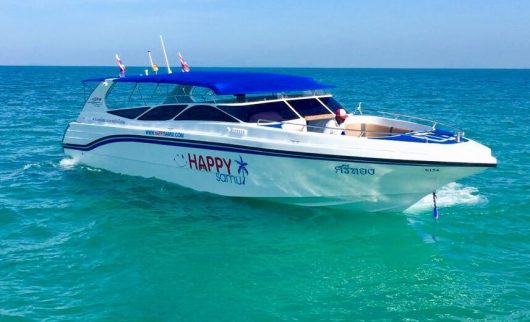 Tour description
Don't leave Samui without visiting the beautiful Angthong National Marine Park, which lies just 1 hour away by speedboat.
Our comfortable speedboat sets off at 09:30 from Samui thus avoiding crowds of tourists heading to Angthong at 08.30-09.00 in the morning.
The usual tour to Angthong is not suitable for snorkeling because the waters of the national park are not clear enough, and near the standard stops in almost all tours – at Mae Ko and Wua Talap – there are no coral reefs.
During this trip, you can enjoy the beautiful sea world of Angthong while snorkeling near Koh Wao. You will see colorful corals and wonderful sea creatures, as the waters near this island much clearer that near other islands of the marine park.
You will see the famous Emerald Lake in the crater of an extinct volcano on island Mae Ko, visit the viewpoints, go kayaking, or enjoy an exquisite Thai lunch.
You will not have to worry about such trifles as ice water, towels, and beach mats.
You will return to Koh Samui at 5 PM. We call such tours 'semiprivate'.
Book a tour to Angthong with personal service and unique route!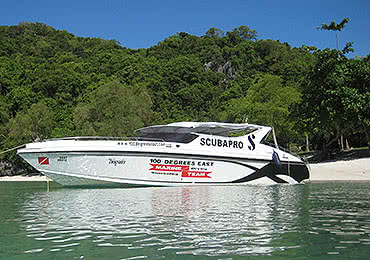 Tour description
With our V.I.P tour, we guarantee you will not find yourself on a crowded speedboat or having to endure 'crack of dawn' starts to the day on a packed minibus that takes over an hour to get to the departure point, far from it. The maximum amount of guests we take is fourteen, literally half the capacity of our state-of-the-art speedboats, and that gives you twice as much personal space. Our boats are equipped with GPS, sound systems, fresh water showers, marine toilets and up to the minute safety equipment. Hotel pickup by V.I.P minibus is 9 am and if you are staying on the North West coast of Samui we will pick you up by speedboat.
A fantastic start to your Angthong snorkeling tour!
Your Angthong snorkeling experience with us will be relaxed, laid back and will provide all the time you need to enjoy some very special spots. During the trip, you can enjoy snorkeling, a coastal cruise of the marine park, a tour of the emerald lake where a camera is a must, swimming and sunbathing on the pristine white sandy beaches. Lunch is taken in a charmingly authentic Thai restaurant where you can enjoy freshly cooked seafood and mouthwatering Thai dishes rather than a less appealing picnic on the beach with food that was cooked several hours before departure, a common practice among our competitors. There will be ice cold soft drinks and fruit on the boat for your enjoyment throughout the day.
Let our English speaking guides help you discover the natural wonders of the Ang Thong Marine Park in the Gulf of Thailand in a way that will make your V.I. P trip with us simply unforgettable. For personal experiences of our tours visit trip-advisor and read our guests experiences first hand.
Welcome!
Speedboat characteristics
Anda is a beautiful 37ft speedboat with a top speed of 35 knots. Produced by one of Thailand's leading boat manufacturers, Anda has a maximum capacity of 26 passengers. With ample seating in the forward open cabin, she is the perfect choice for groups of up to 20. Her impressive speed means that you can get where you want to go faster, optimizing fun and leisure time on your favorite beaches.
On board, there is a GPS, sounder, chart plotter, fire extinguisher, life jackets, toilet, fresh water shower, and stereo.