Padi diving courses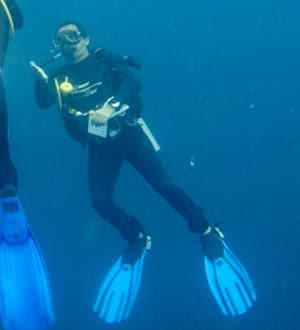 FANTASTIC Dive Center - AND A Whale Shark!!!
Staff and dive masters are very friendly, helpful, and thoughtful for every aspect of the dive. Very good at finding a pointing out fish. The gear is all very good and new. The crew took care of setting it up and breaking it down. We just enjoyed the dive (and their well-prepared lunch!).
I went here with my daughters right before New Years, 2015 to go to Sail Rock. When we arrived, Eric sat us down and wisely said the waves there were large, and he "strongly advised" not to go that day, especially with kids. Very wise and helpful - it would have been hard.
They then scheduled a special dive on Jan 1 (thanks!). We were the ONLY boat there, and a whale shark was as well! Man, our dive master was an EXPERT of finding the beautiful creature each time he came around. We also saw a very rare purple box jellyfish! They can't guarantee such great finds for everyone, but they were very good at helping find them.
Thank you Discovery Dive Center for a great experience.