Private: Koh Samui Aquarium and Tiger Zoo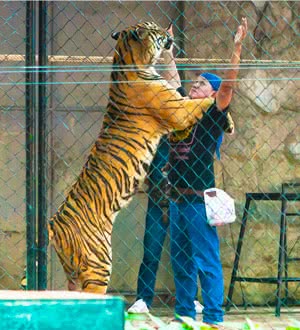 Great value fun for all!
We visited the Aquapark at Monkey Bay on Chaweng Beach. It was the best fun I've had in a long time. The staff were very helpful and made sure I was securely fastened into my life jacket. They helped me climb up onto the giant floating trampoline. Who wouldn't enjoy playing like a kid (and there were several far more agile than I am clambering all over it) and jumping from one giant floatable to another, climbing up the "iceberg" and bouncing off. Laughing at myself and others was infectious fun. 40 minutes was all I could manage even though I was told I could go on again. What a fantastic workout! Parents and their kids were having a ball. We were lucky with the weather too. Not too hot with a gentle sea breeze but I still never managed to balance across from the two trampolines. I will definitely have another go next time I'm in Samui. There is even a bar with toilets nearby and a massage centre right on the beach alongside to ease those aching muscles if needed. Wow!!!