Paradise Park Farm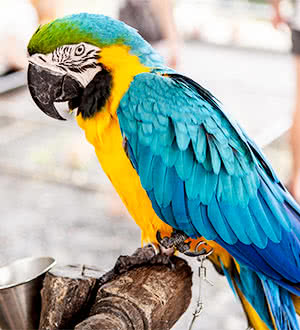 Pleasant emotions to whole family
The farm is located in the highlands in the jungle. You can get there in twenty minutes by bike or car, turned off the ring road. Even the road here is interesting - a narrow road with lots of ups and downs. It runs through the tropical fruit orchards.
In general farm like a zoo with animals, but the difference is that the trail is paved not along the aviaries, but THROUGH them. That is, you walk along the narrow paved path and come into cage of different animals. Animals are very friendly.
We were greeted by colorful pigeons. Woman gave us grain to feed them (note - it is free, which surprised me). Staff - nice people. Nobody runs after you. They not asking for tips at all.
Then there were large parrots. White cockatoo loves massage! Then there were sheep, goats, ostriches, deers, ponies, peacock and small fish in the pond. There were no monkeys any more. Then we have wandered through the garden. And in the end come to a place with a pool. There are lots of sun beds, clean water in the pool and a restaurant. You can order a fruit shake and enjoy the beautiful view from the pool.
We spent the whole day there. We really enjoyed.