Private: Private charters on "The Red Baron" sailing yacht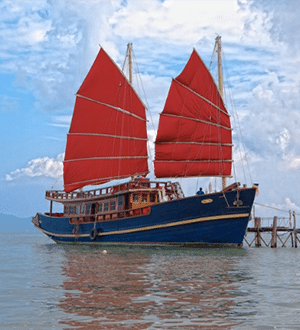 Fabulous!
We contacted The Red Baron before we arrived on the island and it's a good job we did as they book up quickly. We opted for the sunset cruise and embarked on a beautiful, relaxing sail along the coast. We stopped to look for pink dolphins and flying fish and a few of us were lucky to spot them. It was a magical moment when the sails went up and the boat took off! It really is a gorgeous boat and on our sailing there were only 15 of us so there was plenty of room to stretch out and relax. Dinner was fresh and included indian curry, banana prawns, bbq pork, noodle salad and fried rice. It was delicious. Soft drinks are included in the price however there is a bar on board to cater to whatever you fancy.
When we return to Samui we have already decided to book the Red Baron for one of their longer day tours and we can't wait!