Private: Overnight cruises from Koh Samui by catamaran Nautiness II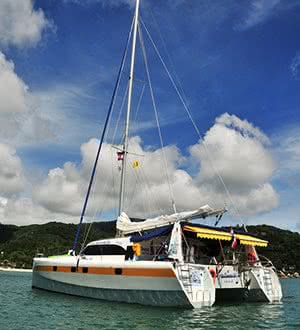 A week soooo feel good and safe, thank you!
I was lucky to have the opportunity spending a week together with my husband on this catamaran. All preparations, beginning with booking in front of our PC at home and Christian at the other end answering every question by email, followed by in time pick up from our Bungalow, check in (I needed nothing to do, just get on deck of Nautiness; all luggage somehow was suddenly on board, too) was already "1st class".
The turn itself was absolutely great. a week of freedom, relaxing days and many helpful hands (many thanks to the crew of skipper Andi). I could select myself just to hang around and relax, read a book, do some small nautic activities, enjoy a delicious meal or a cold drink, snorcheling around the cat, ....
I never will forget the evening hours, when hanging on a buoy, enjoing dinner, the sound of the waves and lights at the beaches.
But also dinner on land, from simple Thai garage up to top level restaurant rounded up a potpourri of possibilities and impressions.
The turn was a great step in further re-establishing of my health and trust in my own possibilities. Thank you Christian, Andi and Crew!