Padi diving courses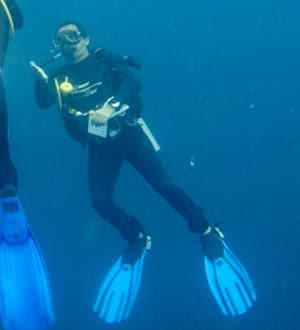 The whole service was terrific
My 17 year old son and I, both fairly experienced Advanced Open Water Divers (40+ dives each), visited Koh Samui and dived with Discovery. I booked the days from the UK and the reactions to the e-mails were swift, professional and friendly; we had a good impression before even meeting the team.
On arrival at our hotel, we checked in with the Discovery shop to find they knew we were coming (experience has shown us that this is not always true elsewhere) and had a programme lined up for us for the 5 days diving that we had booked, that they were prepared to modify but there was no need.
We were picked up from the hotel in a comfortable air conditioned minibus and on arrival at the Dive Centre checked out for kit size; efficiently this had already been picked out based on the info provided before arrival. There was tea, coffee, water to drink and sufficient to snack at for breakfast that we did not have to get up ridiculously early to squeeze in breakfast before leaving hotel. Our instructor/guide (Steve) introduced himself and we set off in a very well kept boat for some of the best diving experiences we have ever had. The visibility was excellent, the number and variety of fish was stunning and the care taken by Steve all week to ensure that we had the best time was exemplary.
The dive centre provided all the kit that was required (thus cutting down on the luggage requirement for the holiday), and their kit was in excellent condition. The team were friendly, knowledgable, professional and fun to be with. The lunch provided was top notch and the drinks rolled to exactly the right temperature- particularly the beer after the second dive of the day!
I cannot recommend this Dive Centre highly enough. The whole experience was excellent.