Private: Private cruises by "Baidee" sailing yacht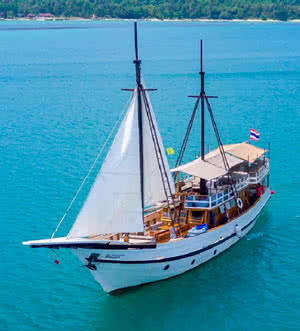 A must do...boat trip round Koh Samui!
15 of us chartered the "Baidee" for a friends special birthday and what a great day we had. The whole day was chilled and it was about what WE wanted to do and given options, so we went round the island of Koh Samui.
Most of us were on the top deck getting some sun, however there are plenty of spaces to lay down and under cover. We were always being offered drinks and Axel was always around to make sure we were all having a great time. The lunch on board was excellent and something for everybody....you won't go hungry as in the afternoon as we are watching the sun go down, chicken satay with a delicious homemade peanut sauce was handed round....mmmm, i could have spread that peanut sauce on some toast!
We stopped off in the south to go to a beautiful small island, where you can go swimming or stay on the boat. Towels are provided so you don't have to lug these around with you.
We were all sad to get off the boat after such an amazing day together. Thanks to the crew and the owner Thom, you made our day very special. See you again soon.