Private: Overnight cruises from Koh Samui by catamaran Nautiness II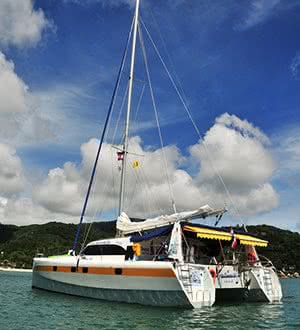 In one word, GREAT!!!
I was lucky enough to go 4 days sailing with the boat. My first impressions were warm, helpful, sense of good humour and most of all feeling as travelling with friends.
The boat is great to go to the Angthong Marine Park. Just cruising between the islands and we were in luck. We had beautiful sunny skies and calm seas. We even spotted a dolphin on our way to the park. The night we spend in a secluded bay and enjoyed the Spaghetti made by Andi. Evening hours is what you want to make from it. Easy on the deck enjoying the starry sky and the total absence of noise. Only nature. Or just play 'wurfelen' with the crew. 😉 I spent the night outside on the deck and sleep in under a starry sky. Early morning we were gifted to have a great sunrise over the park. All the trips are easy and you can wish for everything and they will try their best to make it happen.
Just as my title is one word 'GREAT' !!!!
I am looking forward to my next trip with the Nautiness 2 and the crew.
B.t.w. a 5 star rating is not enough in my opinion...