Full day jeep safari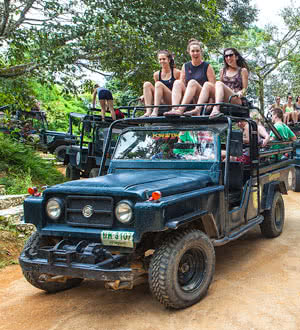 Great value 4.5 out of 5
Im writing this sipping a much needed cocktail post the tour. Completely exhausted but worth it. The day prior we took a scooter around the island thinking we had seen it all but we were wrong. U really need to see a tour and these guys were great and funny too.
We were picked up earlier than expected. I guess it depends on your hotel location.
I recommend taking a travel sickness pill as the 4 wheel driving can be quite hilly but a load of fun. If you love a thrill make sure you have a turn on top of the 4 wheel drives but hold on tight!
We had plenty of time and no waiting in queues either. Maybe we got here at the end of school holidays so it was a bit more quiet? (Last week of January).
Id recommend brining a snack or 2 as they dont feed you until you reach the top of the mountain (spectacular by the way).
Only one other negative is the diesel fumes were a bit much at times as you are touring with about 3 or 4 other trucks and if you get stuck at the end of the line you get everyones exhaust. It didnt seem to bother other people on my truck but i had to breath through my shirt a few times. Other than that i feel i will have left the island with a better appreciation and love for it thanks to this tour. Highly recommended!