Catamaran Wisdom
Booking
For more information about booking process and our cancellation policy please check the page
How to book tours online
. If you found an inaccuracy or mistake in the description of the tour, or faced with site error, please let us know about it in any convenient way.
The Wisdom catamaran successfully combines beauty with functionality, and feature comforts for day and overnight cruises. Coming from one of the highest reputed catamaran builder in the world (Fountain Pajot), the Wisdom is designed so that everyone can take advantage of the best moments during a cruise: a spacious cockpit with shaded seating for 10 persons, an indoor saloon, a wide trampoline for sun bathing and convenient steps at the rear of the hulls providing the best possible access for all types of recreation and fun on the water. The high tech materials and quality make this vessel a safe and pleasant boat that can sail safely in all weather conditions.
The Wisdom is registered for 15 persons for a day trip and 8 guests for overnight tours.
Tours
Full day tour
Cruising time: 9:00 AM – 5:00 PM (8 hours) 
A relaxed boat takeoff at 9:00 enables you to have a good breakfast at your hotel. You will be picked up from your hotel or villa.
Wisdom will take you to the snow-white beaches and bays of Koh Phangan or, in case of high waves to the protected coast of Koh Samui.
Half-day tour
Cruising time: 10 AM – 2 PM or 2:30 PM – 6:30 PM
During the half-day cruise, we will sail along Samui's best beaches and bays in the most relaxed manner. You can stop anytime for a swim, do some fishing or visit a little-uninhabited island. The morning cruise is ideal for families, the afternoon tour includes sunset views.
Sunset tour
Cruising time: 4:30 – 7:00 PM
Cruising along the northern shoreline of Samui, passing these beaches and bays: Choeng Mon, Thong Sai Bai, Thong Son Bay, Big Budda + Bang Rak, Fisherman's Village, Koh Som Island.
Catamaran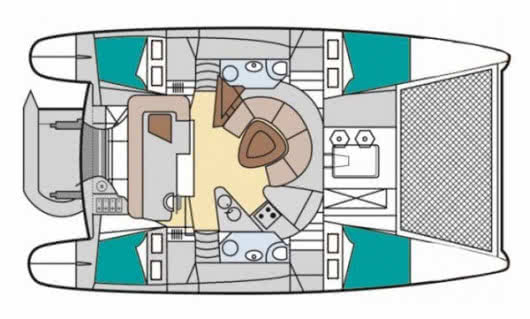 Crew speaks English and German
Bring your own food or drink items without surcharge is allowed!
Toilet: multiple
Stereo System
Freshwater Shower
Snorkeling Gear: Masks
Fishing Gear: Hook Fishing