Boat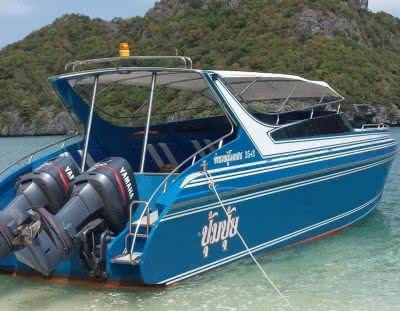 Description
A friendly crew welcomes you on board the comfortable speedboat that can take you to Koh Phangan's neighboring islands. We can offer you a 1- or 2-day cruise to
Angthong national marine park
wherein private atmosphere you can view 42 stunning islands, explore the underwater world with snorkel, relax on the white-snow beaches, and even enjoy the colorful sunset onboard! Tour
around Koh Phangan
can include snorkeling at Koh Ma reef, relax Thong Nai Pan beach, and even romantic sunset in the Gulf of Siam.
Koh Tao and Koh Nang Yuan 
are famous for their stunning coral reefs. Coastal waters are so crystal-clear so that you can perfectly observe large shoals of fish under the pier at a decent depth.