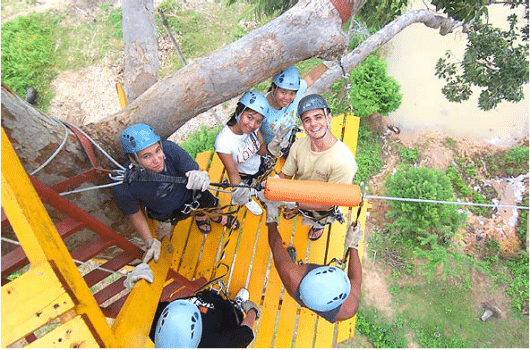 Description
Your adventure full of adrenalin consists of 7 or 10 slides and 3 or 5 suspended bridges (depends on your program – Maxi or Super). These are new long cables stretched between tree stations. You should slide with the help of a special cross-belt which is fixed to the cabled with a carabiner. The sliding is executed with the help of one hand in coarse break-mitten.
At the first sight this experience seems to be complex and dangerous, but in reality, even a child can cope with it: from 12 years old – by himself, younger children (8-12 years old) with Thai operator.
Operators are always somewhere behind you. They explain everything and help if the tourist got stuck on his way.
The cables have different slopes that is why they should be passed with different speed – somewhere slowing down and somewhere rushing at the full speed.
The first station is very simple and it allows to get back to the separate line if you do not want to go further.
This cable ride is designed for people of all ages: from 8-years old children up to elderly people without cable riding experience.
All equipment for cable riding is produced and tested in France.
After cable riding, you will go to 15 minutes safari tour through tropical jungles to the most beautiful waterfall of the island.